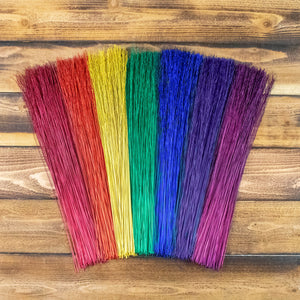 BackwoodsBrooms
Handmade Kids Broom - CHOOSE YOUR OWN COLORS
Regular price
$65.00
$0.00
FREE SHIPPING
 Design your own customized multi-color broom. First choose the colors that you would like in the brush and the collar (the woven piece above the brush). Next choose the color of twine used in the sewing and weaving. Then we will blend them all together to create your own personalized broom!
This is a small version of our house brooms.The process of dying takes many days and the result is spectacular. These little brooms are perfect first brooms for kids. This broom is also great for sweeping out areas with low overhead space like in your tent or attic. We make each broom by hand using traditional techniques and primitive broom making equipment. We use natural high quality broomcorn fiber to craft each brush. Each handle is made from a hardwood that we harvest in the backwoods of the Pacific Northwest. After we have harvested all the right broom sticks, We kiln dry them here at our shop to preserve the natural wood exterior. With proper care this broom will last you many, many years.
• Color: CHOOSE YOUR OWN COLORS
• Materials: High Quality Broomcorn, Twine, Broom Wire, Locally Harvested Hardwoods
• Dimensions: Height 40"
• Brush Width 10"
Broom making is a craft that dates back to ancient times. People would tie grass and twigs onto a stick, or just use a tree branch as a primitive broom to keep their surroundings tidy. In the 1800's the Shakers developed a vise that allowed them to craft a broom that was pressed flat. This created a much more efficient sweeping brush. We use the same techniques that were developed over 200 years ago to craft these brooms for your home and hearth.
---
More from this collection